Even though they can't talk and they probably don't even understand what you are saying, babies that are read to develop better language and reading skills later in life. New research to be presented at the Paediatric Academic Societies meeting (May 8) will show that reading to babies as young as 6 months of age helps the development of stronger vocabularies and better reading skills almost 4 years later, just as they get ready to start school.
The research conducted by Cates (2016) and her colleagues followed more than 260 parents and babies until the children were ready to enter school. When the children were 6, 12 and 24 months old parents reported on how many books they had in the house, how often they read to their children and the quality of their story telling (i.e. if they pointed to and talked about the pictures, discussed the emotions of the characters and so on). The researchers found that the quantity and quality of book reading in early infancy predicted the size of the child's vocabulary and early reading skills (quality was most important) later on. Both quantity and quality of book reading in the toddler years predicted early literacy skills like name writing, beginning sound awareness and early reading skills.
The above findings fit nicely with what we already know about early language development. That is that early language development is a significant predictor of language and reading outcomes later in a child's life. A study by Duff, Reen and Nation 2015 followed the vocabulary and literacy development of300 children from infancy (16-24 months) to schools age (4-9 years). They showed that infant vocabulary was a significant predictor of language and reading skills almost 5 years later on. It would seem therefore that vocabulary plays a key role in the development of early reading skills.  It is well known that conversing with children is central to the development of their language skills. So, since reading aloud is like a form of conversation, particularly when the reading involves engagement with the child (e.g. pointing at pictures etc.), it seems plausible that it will have a positive effect on the future development of their language.  What is so important is that this 'reading conversation' is important even when the children are non-verbal!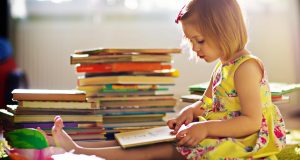 Early language skills don't just affect word reading skills though, research has also shown that they are an essential part of the development of a child's reading comprehension skills (understanding what one reads).  Of course, it is little use being a good reader if you do not understand what you are reading – right? There is considerable evidence that school age children with good word reading skills but weak reading comprehension skills have a weakness in oral language skills. Indeed, Nation et al (2010) demonstrated that children who went on to have poor reading comprehension skills were good readers (from the outset) but started school with lower levels of oral language.
One perhaps obvious implication of the above is that developing language skills as early as possible will help children succeed.  One rather easy way this can be done is by reading to them. Often parents assume that babies are too young for reading but research emerging is showing that this is simply not true. Reading to babies exposes them to a lively world of language and furthermore, the rhythm, repetition, and rhyme of children's books helps lay down some of the core foundations needed for reading.
Nonetheless, a survey in the US found that only 60% of parents in middle-class families read to children every day. In working class families, the number was only 34%. And many adults assume that children under one are too young for reading. Of the families in Cates' study, when the babies were six months old, fewer than 20% were reading more than five days a week, and more than 50% were reading, at most, three days a week ( L Denworth, Brainwaves).