Welcome to Éirim
Éirim is an Irish company that provides psycho-educational assessments and training in educational assessment all over Ireland.
Established in response to the growing demand for educational assessments, we offer a range of comprehensive services for children, adolescents and adults.  
We carry out various psycho-educational assessments including assessments for:
Identification of learning disabilities (dyslexia, dyscalculia etc.)
Identification of giftedness
Identification of intellectual ability and possible needs
Examination accommodations (Leaving and Junior Certificate)
CAO applications
DARE applications
Coping strategies in school or social environment
Career Advice
Group screening
As a private psychological practice with a team of qualified psychologists, we can respond quickly to your requests, providing you with immediate access to the support and guidance you may need. 
All our psychologists are highly experienced and registered members of the Psychological Society of Ireland (PSI). All our assessments are carried out to the highest standards and accepted by the Department of Education and Science..
With each assessment a client interview is done to determine the clients needs and expectations. A battery of tests is then administered to explore the clients strengths and potential areas for development.
A written report provides a record of the assessment results and recommendations to pursue. Where appropriate, reports are written in accordance with the guidelines of the Department of Education and National Council for Special Education.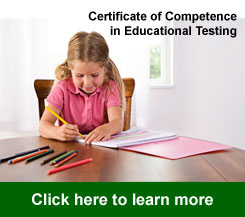 Book Now...
British Psychological Society's :
Certificate of Competence in Educational Testing (Level A)
click here
Dates for next 4 day intensive courses:
19th - 22nd June 2012 Dublin
13th - 16 August 2012 Dublin
30th Oct - 2nd Nov 2012 Dublin
12th - 15th February 2013 Dublin
25th - 28 March 2013 Dublin